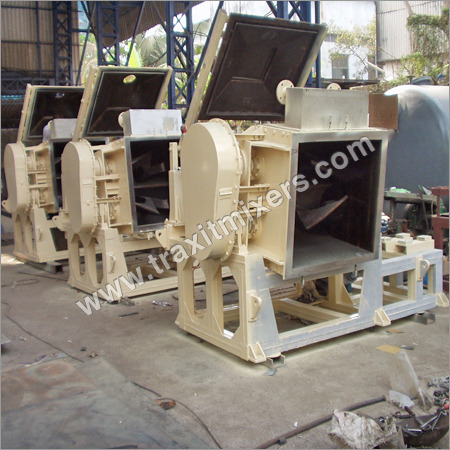 Industrial Universal Mixer
Product Code : 19
Product Description
Assisted by our able personnel and modern production unit, our firm is immensely engaged in presenting ultimate quality Industrial Universal Mixer. The components use in the fabrication process of this mixer is of optimum quality and are sourced from the honest and reliable vendors of the market. As the name implies, this mixer is primarily used for mixing all types of materials like solid, liquid and paste. Furthermore, our offered mixer is examined upon various parameters of quality to seek out any possible defect.
Features:
Optimum functionality

Hassle free performance

Low power consumption

Long service life
Sigma Mixers :
The picture depicts a 2000 liter Equipment with a 75 H.P. drive and 5 H.P. Hydraulic tilting arrangement. The specialty of this particular model is that in-spite of having hydraulic tilting the overall height has been maintained to minimum possible. This is a useful feature where headroom is limited and it also facilitates in loading and discharging of raw material. Mechanically, the lower level of the container gives more stability to the equipment.
Generally TRAXIT Twin Arm Mixer cum Kneader (Sigma Mixer ) can also be called as Universal Mixer, as it can be used for Mixing of products in Various Phases i.e. Free Flowing Solids, Liquids, Light Pastes, Heavy Pastes and Dough. The ideal use is however for the last two applications. General Construction and operation:
The equipment basically consists of a horizontal trough having "w" cross- section formed by joining of two opposing "J's" at their shorter arm. Each "J" houses a Mixing Element or Arm supported by antifriction bearings mounted on heavy-duty side plates on either end of the trough. Both the Arms contra rotate towards each other generally at different speeds.
The mixing action is a combination of - bulk movement, smearing, Stretching, folding, dividing and recombining as the product being processed is squeezed between - the mixing arms and side walls; mixing arms and the center saddle and between the two mixing arms.
The mixing arms have a helical profile along their length to achieve end-to-end movement of the product being processed. Depending upon the application different types of arm configuration can be provided. However the Sigma type is the one popularly used.

Application:
TRAXIT -Twin Arm Mixer cum Kneader finds application in various industries and their use is limited only by one's imagination. They are used for processing viscous to highly viscous products for achieving; mixing alone or mixing combined with Kneading, Grinding, Dispersion, Shredding, Drying etc. Some of the industries where the equipment finds application are highlighted below:
Adhesives-including rubber solutions, hot melts and epoxy putties, Artificial Leather, Brake Lining (Friction Clutch), Chemical, Ceramic, Confectionary-(Chocolate, Biscuit, Chewing gum, etc.), Colour flushing, Detergent and Soap, Dyes and Pigment, Fiber Glass (Dough Molding Compound), Food, Graphite Electrode, Lead Storage Battery, Lubricant (wire drawing lubricant and general grease), Magnetic Coating, Plastic, Pharmaceutical, Paint, Printing Ink, Solid Rocket Propellant etc., industries.
The equipment can be supplied with different material of construction for contact parts like Carbon Steel, Wear Resistant Steel, Stainless Steels to AISI-304 or AISI -316, Aluminium, Hastelloy, etc.
Choice of operating conditions - The container can be designed for operating under positive pressure or under vacuum and can be provided with jacket for heating or cooling the products being processed, based on the criticality of application the sealing arrangement where the mixing arm enters the trough can be designed to have single stuffing box or double opposed stuffing box, sanitary type seals, mechanical seals etc.
With proper selection of proper Features, TRAXIT Twin Arm Mixer cum Kneader can be used as an effective DRYER or REACTOR..
Capacity - TRAXIT Twin Arm Mixer cum Kneaders can be supplied from laboratory models having brim capacity of 3 Ltrs. to Production Models of 2500 Ltrs. Sizes bigger than the above can also be designed and fabricated to client's exacting requirement.