Industrial Rubber Cutter Machinery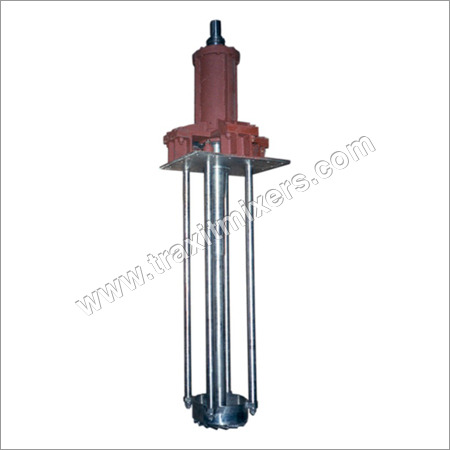 Industrial Rubber Cutter Machinery
Product Description
We are counted as the foremost manufacturers, exporters and suppliers of extraordinary quality Industrial Rubber Cutter Machinery that finds effective usage in the processing of adhesives, sealants and caulking compounds. Our offered dissolver is fabricated under the supervision of brilliant professionals by utilizing excellent quality components that are sourced from the reliable and trustworthy vendors of the market. Moreover, clients can purchase this Industrial Rubber Cutter Machinery from us at rock bottom prices.

Features:
Rust proof body

Hassle free performance

Low power consumption

High functionality
TRAXIT Rubber Cutter cum Dissolver finds effective use in the manufacture of Adhesives, Sealants and Caulking Compounds.
When chunks or strips of rubber or any solid material is broken down in the presence of a solvent, there is increase in specific area which results in faster dissolution, reaction etc. This principle is used effectively by TRAXIT - RCD.
The basic construction consists of a high speed serrated cutter operating in conjunction with serrated stator. Both, the rotor and the stator have large keen edged teeth opposing each other. The rotor is mounted on an adequately sized shaft and the stator is supported by means of three or four tie rods.
The above whole assembly is installed in a closed vessel. The vessel is filled with solvent, and the rubber chunks or strips which have to be dissolved are then added to the solvent.
The chunks or strips of rubber get caught in between the Rotor and the Stator and are reduced to crumbs by the intense action of the opposing teeth and then quickly dissolved in the solvent by the high speed impelling action of the revolving cutter.
For high viscosity product the RCD works in conjunction with a slow speed anchor type open mixing element. This slow speed impeller, has an independent drive and the speed as necessary can be controlled. This sweeps the vessel and moves the solid material into the high speed cutter - stator assembly
It is important that the dissolving action is done at low temperatures so that the loss of solvent is minimized. For this purpose, the container is provided with a jacket through which cooling medium can be circulated.
It has been found that there is a remarkable reduction of time and energy consumed in such equipment compared to conventional mixers.
In one application is has been observed that the mixing time has been cut down from 5 Days to 12 Hours which has effected in saving of floor space, inventory and energy.
Equipment having capacities to handle up to 10,000 liters can be supplied.
Used independently or in conjunction with an Anchor Mixing Element. Finds application in rapidly dissolving rubber chunks into solvent for preparing adhesive.
Capacity- (100 to 10,000 liters)